JungDesigns provides exceptional, budget-friendly services that succeed at every phase of development. JungDesigns is the better alternative to large firms that may contract out parts of a project. JungDesigns is different; we personally deliver every project phase. And we are known for delivering exceptional work within predictable and realistic budgets.
JungDesigns is an award-winning creative services firm delivering artisan quality makeovers to the hospitality industry. We offer site-specific designs that feature local scenes, landscapes, and themes. And we custom manufacture the artwork elements that distinguish your property.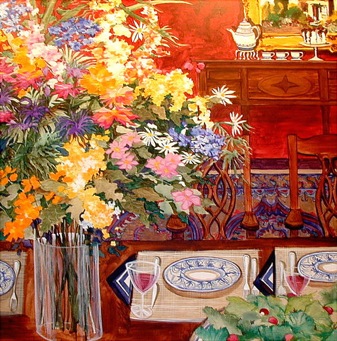 An example of a custom painting for the Best Western Sutter House. Note the warmly inviting still life suggesting Sacramento's traditional charms.
Design

Why rely on boring, formula-driven interiors when you can distinguish your property? JungDesigns delivers locally inspired artisan-quality concepts to make your property appealing and memorable. Our complete interiors account for everything that matters to you and your guests. From colors and fabric choices, to lighting and furniture, and even landscaping, our design proposals deliver a coherent and complete unified approach to your site.
Project Planning and Management

We meet your budget through expert planning and management. We have the industry knowledge and resources to plan and manage projects to get every dollar's worth of value out of your budget.
Purchasing

Other firms may contract the purchasing, often resulting in items not matching original specifications and unexpected higher costs. At JungDesigns, we do it better: we do our own purchasing directly. This not only saves you money, but it also ensures that the lighting, furniture, fabrics, and wall coverings are all directly supervised to original specifications.
Custom Manufacturing

JungDesigns includes our own artisan studio. Our studio hand crafts unique paintings, collages, and sculptural elements that cannot be found elsewhere. Tom Jung personally designs and supervises the crafting of unique visual expressions to reflect the special nature of your site. Look at our Projects to see examples of custom room and reception area artworks.
Installation
While other companies may contract the installation, JungDesigns personally supervises each site installation. We are committed through every phase, right down to the final lighting adjustments and positioning of the artwork in guest rooms.